Commercial & Residential Pest Control in London
Who We Are
With over 100 years' experience, our pest control services teaches us the expectations of each client differs considerably, that's why we take the utmost care guaranteed.
01
Survey
We'll inspect your commercial or domestic property to understand the type of pest and level of infestation. This will aid us in selecting the fastest and most effective treatment.
02
Treatment
We use creative solutions to control pest activity in London and surrounding areas, we can eliminate any pest present at your premises. We also offer same-day and emergency services!
03
Observation
Monitoring is a vital part of our local pest control services. Our service includes up to two additional sessions (1 major visit and 2 follow-ups) upon request, within a period of 3 months after the initial treatment.
04
Proofing & Prevention
Our technician will block any accessible entry points as a final touch in order to prevent further pest intrusion. They will also prepare a detailed report for the service done as well as some useful tips for future prevention.
What Our Clients Say
"Best Service Supplier in my opinion for our pest control services. The engineers visiting stores are just super knowledgeable and lovely, their reports are very detailed and get sent to customer same day of when inspection is made."
"Cityspec have been exclusively looking after our hotel for over 10 years. It is the longest association that we have had with any supplier to our business in any area of our business for the simple reason that they are extraordinarily good – The level of service, care, costings, response time etc that they have provided are without equal."
"Extremely reliable and efficient pest control service. Informative and very straight forward to deal with! We called on Sunday and they came out the very next day. Thanks guys."
FAQ
What kind of clients do you work with?
Our services are suitable for all types of landlords and agencies, renting out their property, tenants, home-owners as well as commercial buildings.
What is needed to arrange an appointment?
Please provide us with information on your location (or postcode), the type of pest control service you require and time that the infestation has existed. Let us know whether or not you've tried to treat the problem yourself and where exactly in the property the pest infestation has been spotted.
Why should I hire a professional pest control exterminator?
If you're trying to find out about pest inspections, you've tried to solve the issue yourself? While taking things into your own hands is great in some cases, pest control services always requires more strategy and attention than you can give it. More often than not, property owners tend to lack the expertise and time to handle most pest related situations that are commonly encountered in or around a home or office. If you'd like to resolve your pest control problems now rather than later, give us a call today.
How soon can I expect to see results?
You can usually expect to see a significant reduction in pest activity within a couple of days. The exact timeframe depends on the type of pest we're dealing with alongside the choice of materials necessary to provide the best long-term results. In some cases, you will eventually see a slight increase in pest activity soon after our initial treatment which is a good thing! This essentially means the products we use are working. We have disrupted their breeding and feeding habits, and are looking for a new place to live. They are not going to last long because of the pesticide covering them. Give it a week or two to die down, but give us a call if they persist past that time – we may need to give them another round.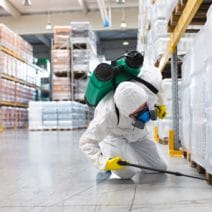 Reliable Pest Control Company, FREE Consultation on 0207 965 7195.
Tailored service for each and every client